Unlock Android Phone After Too Many Pattern Attempts
Unlock Android Phone
Android phones have an option of Pattern lock. But how to unlock Android phone if anyone forget the pattern lock. You specify some pattern when you apply lock. Usually when you try to unlock the pattern, You have five chances. If you fail to unlock your phone in these five attempts then you will have to wait for 30 seconds for the next attempt.
But if you completely forgot the pattern then you can try the methods like,  From google account, Using Factory Setting, Using recovery mode etc. In this article you can find the answers of the questions like unlock android phone? Unlock android phone after too many pattern attempts? How to unlock android phone after too many pattern attempts easy? Unlock android phone pattern?
You cam also read at Daungy Top 10 best android games of all time – Top Rated [Daungy]
Here is the detail of these methods.
Google Account Method
When You have completed five attempts unsuccessfully. Then the option of "Forgot Pattern" appears on your screen. Select that option.
After selecting that  option. Go to your google account. Sign In. You will be asked username and password for that. Then your account will redirect you to the main setting menu where you will have security option.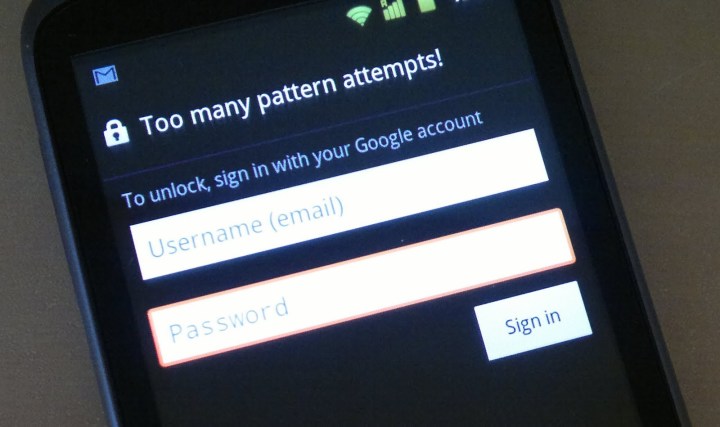 Then in security option Reset the device security option. Then in the menu security options you  will have to choose a new security pattern. The other types of  screen locks available are None, Slide, Pattern, Pin and password.
Daungy also have the Article How to Get More Backlinks in Less Time – Full Guidance By Daungy
Factory Setting Method
Reset your device to factory settings. Shut down your device using power button.
Then you have to press and hold the power button and volume down button together. Do this process until you phone starts.  A new screen will appear that will have start option and you will see an arrow around it.
By pressing these buttons together your phone will go in Fastboot mode. In Fastboot mode you can select to boot your phone normally or in recovery mode.
Go for the Recovery mode. You can choose options and navigate through menu using volume buttons. In recovery mode you will have a screen that will have an image of android logo and an exclamation mark.
Then for the next step, Press and hold power button and volume up button. This will show you the recovery menu. Go through the option user data/Restore factory settings. Then format the system partition and install updates.
Perform factory reset there. Use volume button to reach  wipe data/Factory Reset. use power button to choose that option. "Yes-erase all user data" by selecting that option. After that you will have the main Android screen.
Following are some more interesting topics at Daungy
How Important are Backlinks in SEO – Complete Guidance By Daungy
Online SEO Tools – The Ultimate Collection By Daungy